The importance of visuals can not be overstated when it comes to eCommerce. Brands invest millions in shooting high-quality images. However, traditional images no longer offer a holistic view of the product.
But eCommerce brands have an array of other visual content options available like photorealistic 2D, 3D renderings, AR, etc. Interactive product visualization is a trend, a new frontier in eCommerce. Business owners use product configuration to make it easier and persuasive for customers to explore and engage with the product.
For eCommerce businesses, product interaction is as important as the product itself during the purchase journey. And this is where interactive product visualization, also known as 3D product visualization, comes into the picture.
3D product visualization allows shoppers to configure the product in real-time and add whatever they wish. And for business owners, the right product visualization can boost sales and reduce purchase returns. This post will discuss how using product configuration and product visualization can be beneficial for your business.
An outline of what the post covers
The Biggest Challenge of eCommerce
You have done everything you can to keep your business going. You have the best quality products; you deliver top-notch customer service. However, product returns are getting out of control.
Sounds familiar? You are not the only one.
Product returns are the biggest enemies for the majority of ecommerce brands. E-commerce has a 20% return rate, more than twice what we see in brick-and-mortar retail. Moreover, the cost of reverse logistics and refunding is a significant financial trouble for store owners. Of course, the cost can vary based on several factors, but product returns no doubt eat up profit margins.
One of the major reasons customers return products is the inability to visualize before making a purchase decision. Roughly 22% of consumers return products because the product they received looked different from its images on the website.
Buyers prefer to look for images and videos to gather accurate information about the product. For instance, a customer buying a shirt may want to see how it looks from different angles; they may want to be very sure about the dress's length before purchasing.
A solution to handle this challenge is interactive product visualization eCommerce. And the good news is that it is completely within your control. With 3D product visualization eCommerce business owners can fill the gap between expectation and disappointment, and significantly reduce returns. According to Forbes, brands using product visualization configurators significantly reduce return rates by 80%.
What Is Product Visualization & How It Works
Interactive Product visualization is using renderings, images, and artwork to communicate your products to customers visually. Using this method, customers can see a picture or rendering of the product while completing their purchase online. This gives shoppers confidence as they explore the products' features and capabilities.
Here's how a product visualization software works
After integrating the visual product configuration software with your eCommerce store, customers can start using the tool by selecting one of the products on your platform. Let's say they chose a shirt. The tools will enable them to customize different parts of the shirt like a collar, sleeve, middle of the apparel, etc., by changing the color, patterns, adding text, clipart, and more. Plus, the realistic 3D view of the product gives them the exact idea of what they wish to buy.
Here are some benefits that a product configuration software can provide
What Can a 3D Product Configurator Do for Your Business
Increase Engagement – Having 3D product visualization on your eCommerce store will enable customers to actively participate in the shopping process. When customers feel they are a part of the entire process, customer retention increases to a greater extent. This, in turn, makes all the difference in building lasting relations, one of the most important drivers to improve sales and customer loyalty.
Increase Conversion Rates – Interactive product visualization drives conversions. 83% of shoppers say that visuals are the most compelling reason for purchase. Product configurators play an important role in helping customers find what they are looking for by providing interactive visuals. This enhances decision-making and thus improves conversion rates.
Implementing Product Configurator Software
The first step in integrating the software is to decide the type of configurator you need for your eCommerce store. There are two types of visual product configurators – static 2D and interactive 3D.
Static 2D product visualization presents a static image that doesn't move. With interactive product visualization, in addition to customization, customers get a 360-degree view of the product.
You can integrate Brush Your Ideas product visualization software with eCommerce platforms including Magento, Shopify, WooCommerce, Prestashop, and more. You can enable customers to create products the way they want with our online product configurator software.
(With Brush Your Ideas configurator, you can ease the process of customization and enhance the shopping experience for customers)
Plus, a mobile responsive configurator makes the shopping experience all the more seamless. Our product configurator software includes the following features
360 Degree Visualization – The Online Product Configurator comes with a realistic 360-degree product view. It enables customers to explore the product from all angles which help them get the exact idea of what they want to create.
Mobile-First Approach – For a better shopping experience, customers should be able to explore every detail on small and large screens. Our fully mobile-responsive product configurator tool lets customers design from anywhere, anytime.
Configurator Options – The configurator software comes with backend options to enable/disable features as you want.
Designer Options Management – The configurator software provides a number of designer options to enable customization. This includes a wide range of readymade templates, clipart, text, upload images from the gallery, etc. Moreover, with the Brush Your Ideas tool, customers can choose from a wide range of styles, patterns, and color options to apply customizations and build their products.
Easy CSV Import – With this feature, the configurable options for the configurator will be imported in the backend via CSV files. The file saves information like details of the customer, saved preferences, etc. This eases and speeds up the product management process.
Clear Interface – The role of the configurator is to inspire shoppers to explore a product or help them configure a product as per their needs. It is crucial to have a clear interface to give a perfectly smooth and swift experience to the customers.
With our all-in-one configurator, you can provide product customization and configuration together. That means your customers can swiftly create products. Request a live demo and see for yourself how Brush Your Ideas' product configurator can help you take customization to the next level.
Brands using 3D Product Visualization Effectively
Let's have a look at brands that are using online 3D product configuration tool to meet the demand of customers
1. Nike By You
The name says it all. Nike's shoe configurator is a web-based configuration tool that allows users to design their own shoes by selecting different color choices for seven different shoe areas. When you select a product on the website, a basic template appears that shows different shoe parts and colors that you can customize.
Depending on the sneaker type, the customization can include almost every component of the shoe like base, mudguard, Swoosh, lining, laces, eyelets, airbag, text, and logo placement.
The tool is functional and easy to use. There is no zoom or rotate feature, but you can see the final product in six close-up pictures from all angles.
Key takeaway from Nike By You – having a share button that gives shoppers the option to share their creation on Facebook, Twitter, or Pinterest is a smart way to market your brand.
(Nike's Web-based Configurator Tool)
2. J. Press
J. Press is a men's clothier that provides custom-made suits, jackets, trousers, and more. The brand is a pillar of Ivy League, a dressing style of men's clothing that was popular during the late 1950s in the Northern United States. J. Press's quality tailoring and craftsmanship are what win customer loyalty.
To stand out from the crowd, and promote customer individuality, J. Press integrated a product designer tool.
The configurator provides real-time rendering of fully customizable shirts. It also includes combinations of fabrics, colors, collars, pockets, fits, and sizes. This allows customers to choose a shirt of the exact color, pattern, fit, and style they want.
Key takeaway from J. Press – A clear and easy to navigate configurator makes it easy for customers to shop.
(J.Press 3D Product Configurator)
3. Undandy
Undandy is a Portuguese shoe brand combining the country's shoemaking heritage with the latest digital technology. Their 'design your own shoes' configurator starts with choosing a basic shoe model that includes styles like casual, traditional, square toe, etc. After choosing the basic model, shoppers can customize everything like lace, straps, sole, stitching, etc. There is even an option to add extra text to the shoes.
Key Takeaway from Undandy – For better interaction, ensure that the product displayed is highly realistic that one can rotate and zoom in and out.
(Undandy Allowing Customers to Design Their Very Own Leather Shoes)
4. Choiss
The outerwear brand Choiss prioritizes sustainability and size inclusivity. What's more interesting about the brand is that they are using technology to promote sustainability. With their made-to-order, made-to-measure model, the brand claims that inventory waste and product returns are minimum (25-40% estimated industry standard). Fewer returns reduce packaging, manufacturing, and transportation cost. With the help of a product configurator, Choiss gives shoppers the freedom to customize the body, sleeves, sides, ribbing, collar, zipper, and jacket lining.
Key takeaway from Choiss – What Choiss teaches is to not limit the customers' freedom and give a variety of options to customize.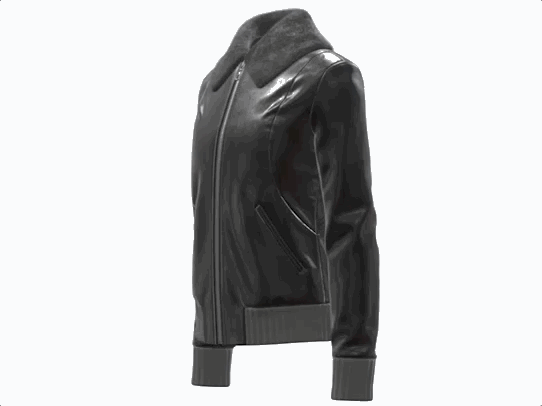 (Choiss Jacket 3D View)
5. Kashiyama
Kashiyama is a Japan-based fashion brand that beautifully combines fashion and technology. The online store allows customers to visualize the style and fabric of the suit before purchasing. The configurator offers a wide range of configurable options from single or double-breasted suits to jacket lining, button stance, and lapel style. The tool also allows customization of minute details like stitching, buttons, chest pocket, etc.
(Kashiyama's Product Configurator)
Over to You
Your customers should feel confident that the products they see on your ecommerce website match the product they receive. Interactive product visualization and configuration give consumers the opportunity to see, and understand products before buying them.
With 3D product visualization and product configuration, customers get the freedom to explore products online just as though they were in a store. These experiences empower customers to interact with products fully and give them a sense of confidence before finalizing the purchase.
Interactivity also increases a sense of participation in the shopping journey, which improves customer retention and loyalty. Every shopper feels the brand values their preference and taste, and the end product they will receive is not going to be generic.
At Brush Your Ideas, our mission is to break down the mindset of one size fits all, so that your customers can craft products they love. We provide a wide range of custom solutions to integrate W2P designer tools and scale your web store. With our product configurator, we are helping our clients take customization to the next level. In 14 years of industry experience, we have catered to more than 400 product design storefronts. Our solutions are modern, easy-to-use, and quality-driven that suit most business requirements.
We can help you find the best way to offer high-end customization to enhance the customer experience. If you want to enable product visualization on your eCommerce store, just drop us a message, and we will get back to you!
All product and company names are trademarks™, registered® or copyright© trademarks of their respective holders. Use of them does not imply any affiliation with or endorsement by them.