In 2008, Domino's Pizza's stock was the lowest owing to poor food quality and mediocre service. The company even aired a television ad acknowledging the issue.
In 2012, Domino's was back on its feet, with its stock up by 5,000%.
The company's success stems from its ability to implement new ideas and trends. If one does not work, it moves on to the next.
In 2007, it introduced online and mobile ordering. Domino's then added text ordering, Twitter ordering, ordering by a smartwatch, a voice ordering feature, and so on.
It even dabbles in drone delivery and self-driving delivery.
Domino's serves as a great example of how businesses need to evolve to survive a competitive landscape. eCommerce, being a fiercely competitive space, demands businesses to be aware of the online retail trends and implement them to fulfill all their business goals.
With that aim, we prepared this post on eCommerce trends 2021 and beyond. It has all the information you need to retain more customers and grow your business.
Here's a quick outline of online shopping trends 2021
3D and AR VR to Bring In-store Experiences Online
Immersive experiences are no longer a nice-to-have thing. As Gartner puts it, the time is now to use technologies like AR and VR to boost the shopping experience.
Average and ordinary experiences are pushing away customers. According to Salesforce's report, 80% of customers say experience remains as crucial as the product. Businesses need to find more ways to enhance engagement and bridge the gap between online and offline for a better shopping experience.
3D experiences and AR have been on the rise for years now, but the pandemic accelerated the demand. With these technologies, you can provide an entirely new customer experience that leads to higher engagement and conversion rates.
Here are some facts and stats that you can't miss.
Two-thirds of shoppers think that AR would help them make a better buying decision.
Augmented Reality and Virtual Reality give a more accurate idea of how a product will look. That will help your customers know what they are buying, making it easier to meet their expectations. This, in turn, leads to more sales and greater post-purchase satisfaction.
3D content can increase conversion by up to 27.96% on retailer websites
3D videos, visualization, configurations, etc., are an excellent way to attract, engage, and convert your customers. For instance, 3D models will allow users to zoom in and out and get familiar with your product. That will help them make better purchasing decisions.
Solving the Biggest Challenges of eCommerce
Along with the great opportunities that eCommerce offers, there are a few challenges—product returns. According to stats, shoppers return somewhere between 15% and 40% of the products they purchase online. The reason could be various – they didn't fit a customer well or weren't as shown online.
Advances in technology have opened several opportunities for businesses. eCommerce industry trends like AR, 3D configuration, etc., give customers a better chance to look at their products and make informed decisions that lessen purchase returns. Brands, by implementing these online shopping trends, can solve challenges.
Here are some proof points – Shopify recorded a 40% decrease in returns from 3D visualization. Macy's, a fashion brand, saw its returns reduced to less than 2% with the help of VR.
How Your Business Can Take Advantage of These Technologies
Following are two ways your brand can introduce these online shopping trends in 2021
Try-on Feature
Offering virtual try-on to your customers within the website or a mobile app can be the future of eCommerce business. Here are a few brands doing an excellent job at virtual try-on.
Warby Parker, the direct-to-customer retailer of prescription glasses, has a virtual try-on feature on their iOS app. Before implementing AR, they had a home try-on option where they would mail you five frames to test out. But now, with the try-on feature, all you need to do is open your iPhone's camera, pick a frame, and check how it looks on your face with an AR overlay.
(Warby Parker Virtual Try-on to Preview Glasses Using AR)
Fashion retailer Gap is using augmented reality in their mobile app called The Dressing Room. Using the app, shoppers can try outfits on one of the five avatar body shapes. Shoppers can put multiple avatars side by side to compare different sizes. This enables them to see what a dress will look like. All this in the shopper's real time environment. If they like the outfit after trying it, they can purchase it right there in the app.
(Dressing Room by Gap Augmented Reality App)
3D Configuration
3D configuration is another popular online shopping trend. 3D configurators are interactive tools powered by live 3D models. They enable customers to personalize it the way they want and see the adjustments in 3D from all angles. This engaging experience helps in improving purchasing decisions. Here are a few examples of retailers using 3D product configurators.
Choiss is a New York-based jacket brand. Once a shopper chooses a jacket with the best fit, they can see exactly how it looks with a 360-rotating feature.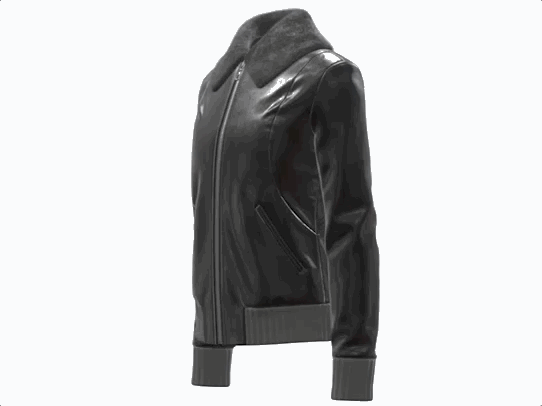 (Customizing Jackets By Choiss)
Customers are asking for this type of immersive and dynamic shopping experience. At Brush Your Ideas, we build configurators that are easy for business owners to integrate into their eCommerce store.
With 3D models, you can provide a great shopping experience to your customers, leading to higher conversion rates and lesser returns. It comes with an intuitive UI that makes it easier for shoppers to shop from any device and a robust backend that gives you all the control you need. Let's help you make your store more enticing with 3D configuration.
eCommerce Personalization is the New Normal
To remain relevant in today's marketplace, brands need to be more customer-centric by delivering personalized experiences. Today's shoppers expect personalization. A survey of 1,000 US adults by Epsilon and GBH Insights found that most respondents (80 percent) want personalization from retailers. Here are a few ways you can implement the most talked about eCommerce trends 2021:
1. Virtual Shopping Assistants
Virtual shopping assistants are one of the biggest eCommerce trends. They use machine learning and natural language processing technology to facilitate text-based interactions with online shoppers.
They perform various tasks like answer customer queries, provide order information, and, most importantly, make product recommendations.
There are many benefits of virtual shopping assistants. They gather data and help you find more about your customers' preferences. If you implement it correctly, eCommerce industry trends like virtual assistants will help you gain a competitive advantage if none of your competitors do so.
Moreover, with personalized recommendations and sending abandoned cart reminders to your customers, you'll have more potential shoppers complete their purchases.
H&M is a brand known for its virtual assistant. The shopping assistant, based on provided customer information, suggests styles and outfits. If a shopper likes the outfit, it guides them to the online store to place an order.
If they do not like a suggestion, the shopping assistant gives three options: direct link to the shop, archive outfit, and next suggestion.
(Virtual Shopping Assistant by H&M)
2. Allow Customers to Design Their Products
One of the most talked-about eCommerce trends for 2021 and beyond is product customization, which is crucial for delivering great personalized experiences to customers.
Have you ever heard about the IKEA effect?
The IKEA effect means that consumers place a higher value on the products they create. The phrase refers to furniture retailer IKEA, which sells many items of furniture that require assembly.
For your eCommerce business, this effect means two things – (a) customers like to create things for themselves, (b) this kind of personalization can be beneficial if you implement it correctly.
When you allow your customers to take an active part in the creative process, you give them a chance to stand out from the crowd and help them make better purchasing decisions.
When they get to build a product with the exact size, shape, design they want, they are likely to be more satisfied with their purchase. This helps you in building a loyal customer base for your brand.
For your inspiration, here's a list of brands enabling their customers to create their own products.
Rapha Performance Road Wear, a sportswear and lifestyle brand – they are disrupting the sportswear industry with their personalized design service. Rapha Custom enables customers to create their dream team kits using an online designer tool.
(Rapha's Personalized Design Service)
The process of designing starts with a template. Then you choose from a variety of styles like plain or v-shaped and over 40 color combinations. You can further personalize by uploading the team logo and adding text.
Our Expertise
One of our clients, E&J Prints, is a UK-based eCommerce apparel company. Their product line includes clothing, bags, shoes, mugs, and more. The company wanted to turn its estore into a creative place where shoppers can bring their ideas and designs to life. With our feature-rich and easy-to-use product design tool, the eCommerce company was able to fulfill its goal.
(E&J Prints Product Designer)
Customization is the future of eCommerce, its products, and Brush Your Ideas is a one-stop solution for all your customization needs. Our product designer tool is a perfect fit for eCommerce businesses enabling them to transform their online store into a design studio.
It brings benefits for both you and your customers. With a user-friendly and intuitive UI, your customers can customize the products you offer from any device. 2000+ clipart gives them complete freedom to choose what they like. We even offer a custom UI so you can have complete control over where your end-users customize. Check out the live demo now!
Social Commerce is Growing: Get Ready to Sell More with Social Media
There's this cool mug that I saw on Instagram and was tempted to buy. But I had to navigate through multiple steps to place an order. The process was irritating enough for me to drop the idea.
To reduce this friction and encourage users to make a purchase, many eCommerce brands take advantage of social commerce, where they sell directly from their social media feeds.
According to estimates, the global social commerce market will reach $604.5 billion by 2027 from the current $89.4 billion.
So, why are businesses giving a lot of attention to selling on social media these days?
According to an Insider Intelligence forecast, the average time spent per day with social networks increased from 56.23 minutes in 2019 to 65.44 minutes in 2020.
The rise in eCommerce and social media usage growth drives more businesses to promote brand awareness and sell more on social media platforms. Additionally, social media has a significant impact on influencing the purchase decisions of millennials and Generation Z.
Hence, it is good to jump on to one of the most popular eCommerce trends and take advantage. But is social commerce right for you?
If you have a store and a marketing strategy in place, selling directly on social media will aid all the efforts you put in. Here are a few ways you can start selling on social media:
1. Create a Shop on Instagram
Instagram Shopping is one of the most popular eCommerce trends that brands use to reach a wider audience and enable them to shop directly from the platform.
According to Instagram, 70% of shopping enthusiasts turn to Instagram for product discovery. With Instagram shopping features, you can make it easier for your customers to shop right now.
Once you create a customizable storefront there, buyers can browse your products and collections and purchase them with checkout. Here's how your Instagram business account will look once you set up a store. After clicking the view shop button, users can browse through the collection and purchase a product without leaving the app.
(Instagram Storefront Where Shoppers Can Browse and Buy Products)
Additionally, you can even leverage shopping tags that will allow you to highlight products from your catalog within both newsfeed and stories. For instance, Magnolia Boutique saw a 20% increase in Instagram revenue using shoppable tags.
2. Create Tailored Shopping Experiences on Facebook
With over 2.6 billion active users, Facebook is the largest social media platform. If you already have an established presence there, it becomes easier to move into social commerce using Facebook Shops.
It is Facebook's latest eCommerce update which makes your Facebook Page Shop more customizable. You can design a shop to reflect your brand. Meaning, you can use visuals and custom colors as per your theme and even import a product catalog from your website.
(Starting Social Commerce With Customizable Facebook Shops)
Once you add all products, you can organize them into collections to make it easier for customers to find. The shop even lets your customers get in touch with you through Messenger and Instagram Direct for queries, support, and more.
At Brush Your Ideas, we assist businesses in forming insight-driven marketing strategies to get the best from social media channels. Let's help you with your marketing campaigns.
Greener Consumerism and the Rise of Sustainable eCommerce
Environmental awareness has long been an eCommerce trend. As an eCommerce business owner, if you have not yet planned to prioritize environmental responsibility, this is the right time.
It will not only make your customers feel that you are more environmentally friendly, but shoppers are also willing to pay more to planet-friendly brands.
As per a research report by Accenture, 61% of consumers are making more environmentally friendly, sustainable, or ethical purchases, with 89% likely to continue post-crisis. Moreover, Generation Z, who is gaining more spending power, is leading this trend.
As per a survey, 62% percent of Generation Z survey participants prefer to buy from sustainable brands. They are even willing to spend an additional 10% more on sustainable products.
Your one step towards an eco-friendly brand means greater engagement and customer loyalty in the long run. And green marketing is a powerful tactic towards that step.
Green Marketing & Its Strategies
Green marketing is when a company focuses on its product's environmental and sustainable benefits in its marketing assets. It's about the way the products are produced. – HubSpot
Here are a few methods of changing the future of the eCommerce business with green marketing:
1. Make Few Changes in Your Brand Messaging and Spread the Word
Your brand's mission statement and vision reflect who you are and what you stand for. To come across as a sustainable brand, take a clear stance on your website homepage. Talk about how you strive to save the environment with eco-friendly products and packaging, a transparent supply chain, etc.
You can even advertise your green message by writing blogs and posting about going green on social media. There are green business certificates like Green America, Green Business Certification Inc., or Green Seal that can help you promote your sustainability initiatives.
You can enroll your brand to these certification programs. After initial assessment, and procedures set by each provider, you can avail the certificate and then add them to your website as a badge.
2. Implement Sustainable Packaging
As consumer attitudes shift towards reducing waste, eCommerce companies are making big commitments towards sustainable packaging.
Starbucks is a popular name when it comes to sustainable packaging efforts. They introduced straw-less lids across the US and Canada. The lids consist of widely recyclable polypropylene plastic.
(Starbucks Introduced Straw Less Lids)
An eco-friendly alternative doesn't necessarily have to be more expensive than traditional methods of packaging. Some cost-effective and long-lasting options are biodegradable plastic, bamboo, natural fabrics, reusable cups, envelopes, etc.
3. Include More Eco-friendly Products to Your Product Line
If you are selling products like clothing items, having eco-friendly alternatives is an excellent way to encourage sustainability. You can add recycled garments, 100% organic cotton shirts, reusable water bottles, tote bags, etc., to your catalog.
For instance, LARQ is a brand that makes self-cleaning water bottles. They are encouraging buyers to reduce plastic using proprietary UV-C LED technology.
T-shirts, mugs, and bottles are the most popular promotional products for corporates, NGOs, and other organizations. You can even allow shoppers to customize products by adding their logo, text, etc. That way, with customization, you will be able to reach a wider customer base.
Below is an image of Printify's eco-friendly stainless-steel bottle. The brand has a category dedicated to sustainable products that include organic t-shirts, hoodies, biodegradable mobile cases, etc. They even allow their customers to design their own products.
(Printify's Eco-friendly Bottle That Shoppers Can Customize)
It's time to make your customers happier by not just going green but also with great product experiences. Let your customers create products they love with customization and configuration. Request a personalized demo to try it out now.
Customers Will Shop in Marketplaces: It's Time You Expand Your Business There
One of the latest eCommerce trends that you need to keep an eye on is the rise of online marketplaces. If you try to be in your customer's shoes for a while, you'll realize that convenience and trust are what they seek the most. They prefer to purchase from a marketplace more than from a website of an unknown brand.
And there is no surprise that marketplaces like Amazon are continuing to see traffic. U.S. marketplace sellers sold 3.4 billion products from May 31, 2019 to May 31, 2020.
If you do not have a presence on marketplaces yet, this is the ideal time to take advantage. With marketplaces' high traffic, wider reach, and better shipping, you can quickly become a top seller, especially when you are just starting.
It sounds tempting, but for better and quick results, it's good to prioritize a marketplace that fits your needs. The top three choices are Amazon, eBay, and Walmart.
Amazon gives you next-level brand visibility. But ranking there without a proper optimization strategy can be difficult.
Selling on eBay comes with different benefits like active buyers, different shipping methods. But then you need to pay numerous seller fees even if you do not sell an item. Hence, consider looking at the pros and cons of each platform and then make an informed decision.
Growth in Voice Search: Are You Prepared to Gain SEO Benefits?
One of the latest eCommerce trends is voice search. A lot of this growth is due to smart speakers and voice assistants. 20% of smart speaker and smartphone owners use their devices' voice assistant "several times per day." And 70% of customers prefer to conduct queries by voice instead of typing.
Hence, optimizing your website for voice search becomes necessary to get more traffic and leads. One of the ways to optimize your site for voice search is to think about user intent.
When we type searches, we use short phrases like books for kids. But with voice searches, it's more like a conversation, 'what are good books for 5-year-olds?'.
Generally, speech searches tend to be more conversational. According to Purna Virji, PPC expert and senior manager at Microsoft, speech searches tend to be longer through the tail.
(Speech Searches Tend to be Longer – Image Source)
Amazon recently introduced a new capability of user intent with Alexa. Now, it can predict someone's goals based on the questions they ask. For instance, if a user asks, "how long does it take to make cupcakes" Alexa might answer that question and then follow up by asking if they want to set a timer.
So, when optimizing for voice search, consider knowing the intent behind the search. At Brush Your Ideas, we assist businesses with our marketing services to ensure their search presence is upto the mark. Get in touch with us to discuss a marketing plan for your eCommerce business.
Future of eCommerce: Diversification of Payment Methods
Owing to the pandemic, mobile and contactless payments gained momentum. Digital Payments are likely to hit $6.6 Trillion in 2021, a 40% jump in two years. Now, as more consumers continue to embrace eCommerce, we are likely to see a demand for new payment methods that are safe and convenient.
One payment method that is likely to become mainstream is QR codes. In fact, according to recent research concluded, customers across the UK and Europe are relying more on QR codes. 80% of smartphone users say they have scanned a QR code at least once. And 40% say they scanned one in the last seven days.
The subscription-based business model is one of the fastest-growing online retail trends. As per the latest projections, by 2025, the global ecommerce subscription market will be worth $246.6 billion.
This mode allows customers to pay for your products or services they need on a recurring basis, usually monthly or yearly. eCommerce subscriptions are all about creating a stronger customer relationship. Subscriptions enable you to retain customers for a longer time and turn them into loyal followers.
Dollar Shave Club is the most popular brand harnessing the potential of subscriptions. They offer high-end men's grooming products with flexible subscription plans.
Adopting the Latest eCommerce Trends with Brush Your Ideas
The eCommerce industry trends are constantly evolving, but some online retail trends like customization, augmented reality, voice search, etc., will affect businesses in the coming years. At Brush Your Ideas, we help businesses personalize any product on their web store with our product designer tool. Your customers can now create their designs with a photo-realistic preview of them. Take your online presence to the next level and make your store future-ready with our customization tool. Drop us a message, and we will revert to you within 24 hours.
All product and company names are trademarks™, registered® or copyright© trademarks of their respective holders. Use of them does not imply any affiliation with or endorsement by them.